Interactive map shows ZOO's global network in real-time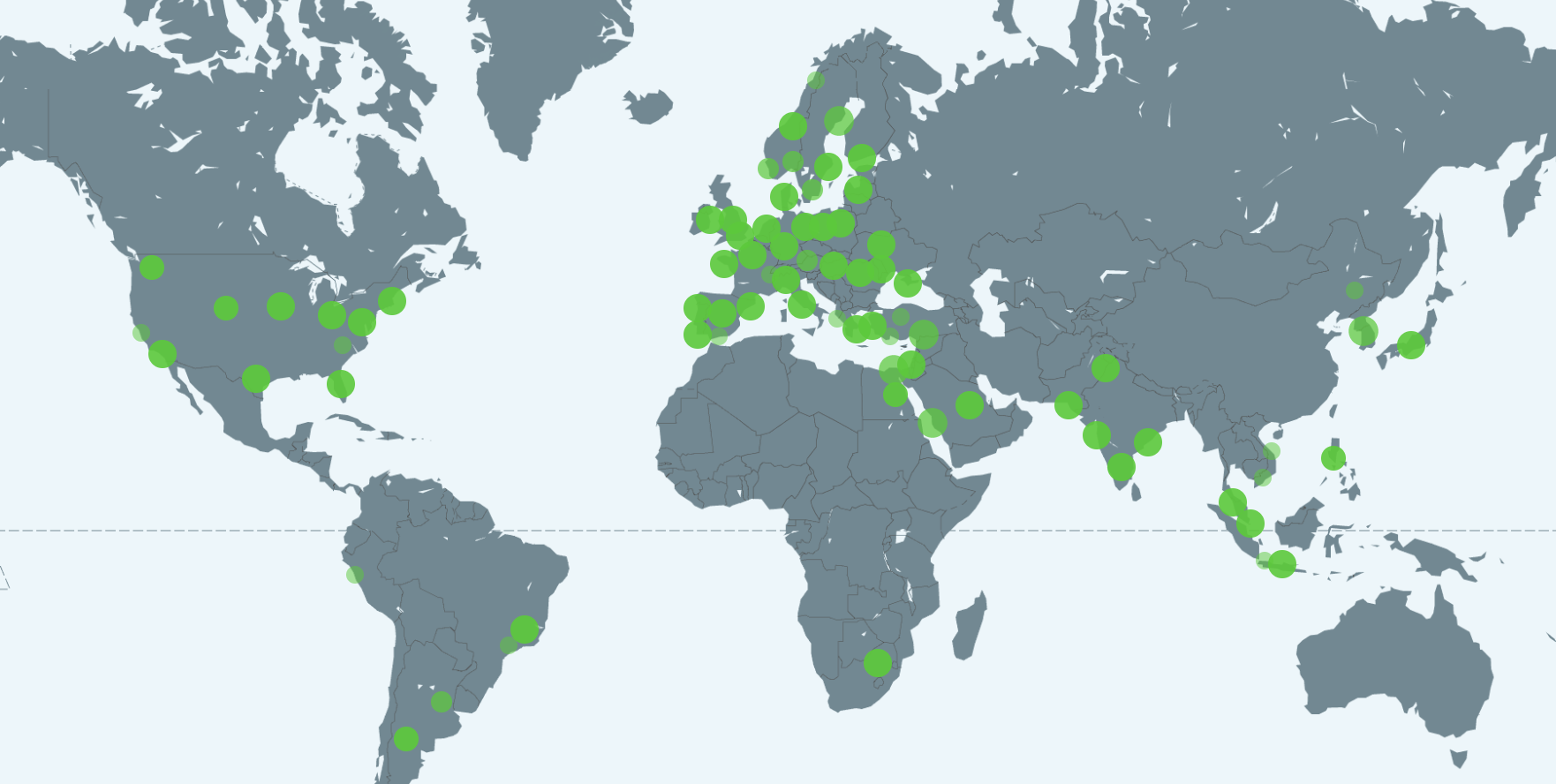 From the Americas to Asia Pacific and everywhere in between, ZOO uses technology to connect localization teams around the world – all this to help our clients reach audiences everywhere.
Powered by the cloud, we're able to work online, with the best translators, directors and partners from all corners of the globe – but where are we and what does our global network look like? In action. At any time. Worldwide.
We've put together an interactive map that gives you a real-time snapshot of ZOO colleagues using our cloud-powered systems – thanks to analytics provided by Google and some development magic from our R&D team.
Hover over each blip to see where in the world people are using ZOO platforms, with new pulses showing those just getting online. You can even click the '24-Hour Recap' button to speed through the last day and see how this shifts around the world. Give it a try!
From dubbing artists to our dedicated in-house teams, here's a quick breakdown of who you'll find online at ZOO.
1. Dubbing talent and translators
Firstly, the talent. With the capacity to work on over 120 languages, our network of translators and voice talent is as far-reaching as it gets. Thanks to the cloud, we're able to access carefully-vetted talent around the world without the need for centralized studios or recording set-ups.
From Amsterdam to Zanzibar, this is where some of the more exotic blips come from – zoom in and click around to see where in the world our talent is based.
2. Trusted local partners
We've identified the need for go-to partners in every territory – and empowered them to use our own tried, tested and Hollywood-approved cloud technology.
For content owners who need to localize TV shows and movies for new audiences, our trusted network enables access to a greater pool of skilled, native translators and dubbing artists. Local knowledge, local skills and local content – paired with award-winning cloud technology.
3. Team ZOO
Finally, there's our in-house Team ZOO. You'll find us in the entertainment centers of LA and London, as well as at our production facility in Sheffield, UK.
Our hard-working client teams look after projects so that TV and movie content is subtitled, dubbed and distributed effectively around the world. Then there's the dedicated R&D team, working tirelessly behind the scenes on new innovations. Not to mention meticulous quality controllers, translation coordinators and developers.
Interested in working with ZOO?
The individual pieces come in all shapes and sizes, but what each of these blips represents is a global network of talent, collaborating to help clients reach new audiences with their TV and movie content. By utilizing the cloud, we're able to bring these disparate pieces together and help create a better way of working.
If you're interested in working with ZOO – or joining as part of our global network – simply drop us a line today.