ZOO Digital wins Best of Show award at NAB Show 2017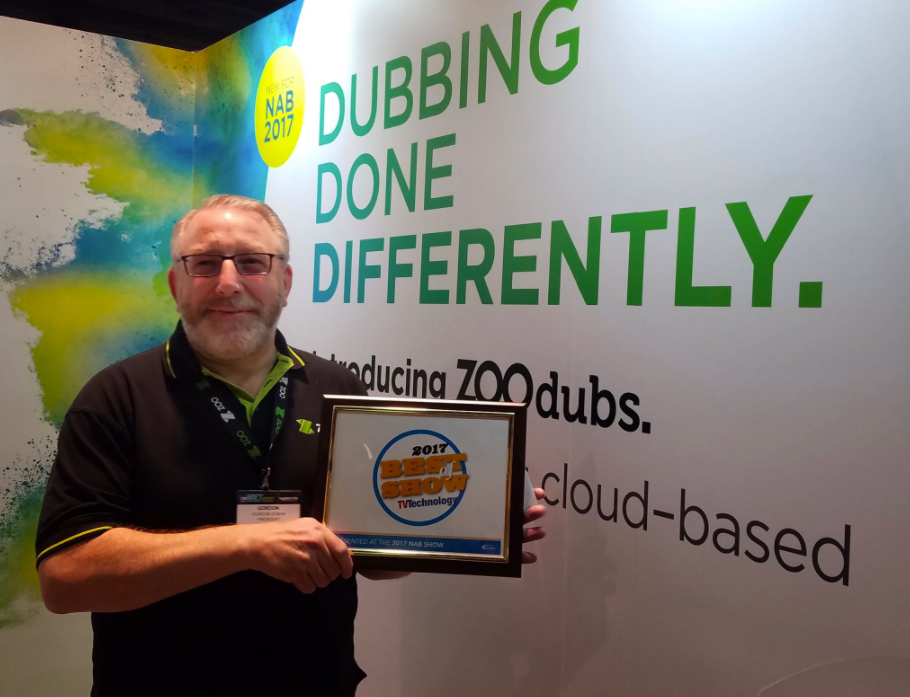 ZOO Digital is delighted to announce that ZOOdubs, the entertainment industry's first cloud-based dubbing platform, has won a NewBay Media Best of Show Award at the NAB Show 2017.
ZOOdubs, which powers ZOO's own dubbing service, is set to transform the future of the dubbing industry and radically improve the dubbing workflow for premium TV and movie content owners.
The NewBay Media Best of Show Awards recognize outstanding new products and were presented by TV Technology, the leading, US-based digital television authority and news source. A panel of engineers and industry experts evaluated ZOOdubs and it was selected for the Best of Show title based on innovation, feature set, cost efficiency and performance in serving the industry.
The cloud-based dubbing service was launched earlier this week at NAB Show 2017, the world's largest annual convention for media, entertainment and technology. ZOOdubs offers a complete end-to-end workflow and addresses head-on a wide range of challenges with the way the dubbing process has traditionally been managed. This has multiple benefits for content owners needing to dub their content ahead of worldwide distribution, including far greater visibility of the production process; access to a wider choice of voice-over talent and the flexibility to work remotely, cast and record from anywhere in the world.
Gordon Doran, ZOO Digital President said:
"With the feedback we've had from existing and potential customers at NAB, we know that ZOOdubs can make a massive difference to the way dubbing has always been done.
"A Best in Show award at NAB 2017 proves that the entertainment industry thinks so too. We're delighted with the accolade and knowing that our technology-based approach to dubbing has the potential to support some of the most well-known TV and movie content owners where they need it most."
NewBay Broadcast & Video Group Vice President & Group Publisher, Eric Trabb said: "The products nominated for the Best of Show program, now in its fourth year, provide an outstanding overview of new technology on the show floor and shine a spotlight on the very best."