A different way of doing things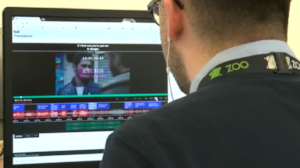 Last week ZOO was named a top ten technology innovator of 2016 alongside the likes of Amazon and Apple. This caught the eye of the BBC who dropped in to find out more about how we do things differently at ZOO when it comes to localization and digital distribution.
BBC News drop in to discover innovation in action 
We're all for lifting the lid on the way we work, not least because we know that our approach – using our own cloud technology can make a real difference for our clients – and we want to be straight up about how, when and where we can make that happen. In fact, there's no secret to it all. We trade on innovation because it's what the market demands. Things change fast in the world of entertainment. The evolution of digital, for example the quantum leap from DVD to Blu-ray to streaming, prove that, and our clients constantly want new ways to stay ahead of the game.
So it makes sense that a business like ours – one that thinks, lives and breathes digital should be there at the coal face – or the interface – constantly developing new approaches to help our clients get their TV and movie content where they want it to be, on whichever platform, anywhere around the world; constantly listening, taking note, understanding their pain points – on security and piracy, on decreasing windows, on growing expectations to do more for less – then finding ways to do something about it. Fast.
In the last year alone we've launched four industry services, which are new in our market:
ZOOscreen: an ultra-secure digital screener for streaming video content
a disruptive subtitling service for TV commercials
an enriched metadata service to enable content discovery
a compliance editing service to adapt TV and movie content for different territories during international release
And in the next few months we have another industry-first on the way – keep your eyes and particularly your ears peeled and head to Vegas for NAB 2017 if you want the inside track.
We innovate like this, not for the sake of it, not just to make a splash, but because we see where the headaches are for our clients, and we can do something about it. We believe that it's time to challenge the way things have always been done. It's why we have an entire R&D team dedicated to breaking down barriers and getting things done.
But at ZOO, doing things differently isn't just about technology, technology is the tool of our trade. It's also about a different way of thinking, of doing business; a different way of working, talking and partnering with our clients. If you've worked with us before, you'll know what we mean. And if you haven't – maybe it's time you should.