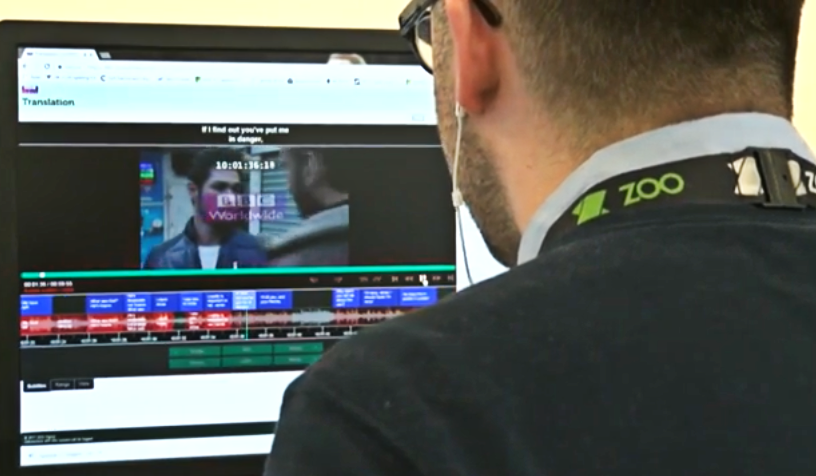 02.18.15
ZOO delivers BBC Worldwide subtitle & caption management solution
BBC Worldwide required a solution to manage its global subtitling and captioning operations and to repurpose all BBC broadcast subtitles. ZOO delivered an innovative, next generation solution for BBC Worldwide: a cloud-based media workflow management system and automated subtitle and closed caption production services. 
CLIENT PROFILE
BBC Worldwide is the main commercial arm and a wholly owned subsidiary of the BBC, the world's largest broadcasting corporation.  Its remit is to build the BBC's brands, audiences, commercial returns and reputation globally by investing in, commercializing and showcasing BBC content around the world.
BBC Worldwide operates in three global regions – North America; UK and Australia & New Zealand (ANZ); and Global Markets (Asia, CEMA, Latin America and Western Europe).
3 Global Regions
7 Geographical Territories
19 Worldwide Offices
40 Channel Feeds in 123 Countries
173.3m Worldwide Subscribers
250m Weekly Viewers
£1042.3m Content Sales
(Source 13/14 Annual Review http://www.bbcworldwide.com/annual-review/)
CLIENT REQUIREMENT
BBC Worldwide required a system to centralize and manage its global subtitling and captioning operations, together with localization services to repurpose all subtitles broadcast on the BBC's four main UK terrestrial channels; BBC One, BBC Two, BBC Three and BBC Four.
A significant driver for a centralized system for subtitles and captions is the forthcoming launch of BBC Store in March 2015.  BBC Store, which will be established and run by BBC Worldwide, will allow users to buy new programs and a selection of content from the BBC archives, on a download-to-own basis. BBC Store is distinct from BBC iPlayer, which will remain a free catch-up service funded by the UK Television license fee.
ZOO SOLUTION
ZOO provided BBC Worldwide with a centralized, searchable cloud-based system to store, repurpose and download localized materials for broadcast and digital distribution in worldwide territories.

Cloud-based subtitle and caption preparation,
management and conversion platform

Configurable, cloud-based platform to manage
collaborative media production workflows
ZOO will provide on-going automated subtitle localization services, making repurposed BBC broadcast subtitles and captions available to download for a low, fixed fee.
SOLUTION FEATURES
Ingest
ZOOsubs ingests and automates compliance testing of all BBC subtitles and captions shortly after broadcast.
Localize
Subtitles and captions are automatically adapted to adhere to local spelling and display conventions for distribution in North America, Australia and New Zealand.
Reformat
Localized subtitles and captions are available in all technical formats required for broadcast and digital distribution worldwide within minutes.
Store
All BBC subtitles and captions are stored centrally in ZOOsubs, creating a secure, searchable cloud-based asset repository, accessible to global BBC Worldwide teams.
Order
Subtitles and captions are available for self-service ordering direct from the asset repository with just a few clicks.
FUTURE DEVELOPMENTS
BBC Worldwide intends to deploy the system more widely over time, ultimately creating a comprehensive, multi-language database containing all localized subtitle and caption assets for their English and non-English speaking global territories.
CLIENT FEEDBACK
"Having explored all potential providers, ZOO Digital presented the ideal solution to produce and manage our subtitle localization. ZOO's industry-leading services and innovative technology deliver a powerful, easy-to-use solution that will support our global teams in delivering accessible, localized BBC content to audiences around the world."
Mark Lovatt, Global Head Of Content Services, Global Content Supply Chain at BBC Worldwide
FIND OUT MORE
ZOO's services and platforms offer a next-generation approach to creating, managing and repurposing subtitles and captions. ZOO delivers configurable, scalable solutions suitable for global broadcasters, major studios and content distributors. Contact us to discuss how ZOO can bring efficiencies to your subtitling and captioning.