ZOO Digital extends its reach in India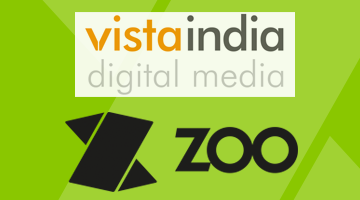 ZOO Digital is delighted to announce a strategic partnership with the Vista India Digital Media Group, a leading Indian provider of movie and TV localization, content aggregation and digital distribution.
Located in Mumbai, Vista India delivers premium content to global platforms for major studios operating in India including Disney, Eros, PVR, Sun Network, Epic Channel, Red Chillies and several other independent content providers.
As part of the partnership, ZOO will benefit from Vista India's presence in Mumbai for localization into eight of the most popular Indian languages. This is to support ZOO's services for online platforms such as Amazon, iTunes and Google Play that are seeking to capitalize on the major opportunity presented by the Indian market. With a population of over 1.2 billion, huge linguistic diversity and a vibrant culture of movie making and cinema going, India represents a significant market for digital distribution of entertainment content.
Vista India is the latest addition to ZOO's network of affiliates around the world, which also includes partners in the Middle East, Pakistan, Thailand, Vietnam and China. The network has been established to offer global online retailers a local partner in every territory. Each partner benefits from using ZOOcloud, ZOO's world-class technology. This underpins the delivery of a comprehensive range of connected services enabling premium entertainment content to be seen and heard around the world quickly and cost-effectively.
"Vista India has a robust understanding of the challenges of the digital supply chain"
Gordon Doran, President, ZOO Digital said: "These are exciting times for global online platforms wanting to reach Indian audiences. Vista India has a robust understanding of the challenges of the digital supply chain specific to Indian content and of this diverse marketplace. We're delighted to welcome them on board."
Rajiv Raghunathan, Director of Operations, Vista India Digital Media said: "We're thrilled by the opportunity to combine our knowledge of the Indian market with ZOO's word-class technology and expertise. ZOO has an unrivalled,15-year track record of software innovation which we will lever to localize premium TV and movie content for Indian audiences."
About ZOO
ZOO Digital, based in Los Angeles, London and Sheffield, is the leading provider of technology-powered, cloud-based localization and digital distribution services. Its clients are world-leading content creators and distributors including major Hollywood studios, BBC Worldwide and iTunes. For more information, contact ZOO.
About Vista India Digital Media
Vista India Digital Media is the foremost TV and movie content aggregation and delivery house for digital distribution of content from India, offering seamless delivery solutions to iTunes, Google Play, Amazon Video Direct and other OTT services.
Vista India's localization team, which includes highly skilled writers and language experts, efficiently delivers several hundred hours of localized subtitle content per month to leading premium OTT platforms. For more information visit Vista India's website.