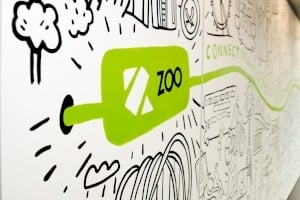 06.13.17
How ZOO used office artwork to explain the bigger picture
What brings your team together? Why does your company do what it does? At ZOO, we wanted to show what it means to be 'us' – using artwork to capture the bigger picture.
Culture has become a bit of buzzword recently – as companies worldwide are showing off their weird and wonderful personalities. From Google's perks galore to Facebook's employee campus, businesses get culture.
And rightly so! A great job isn't just about the paycheck. Most people care about their environment, their colleagues and making sure they're able to enjoy themselves at work. After all, the average worker spends around 92,120 hours at the office in their lifetime. So why not enjoy it?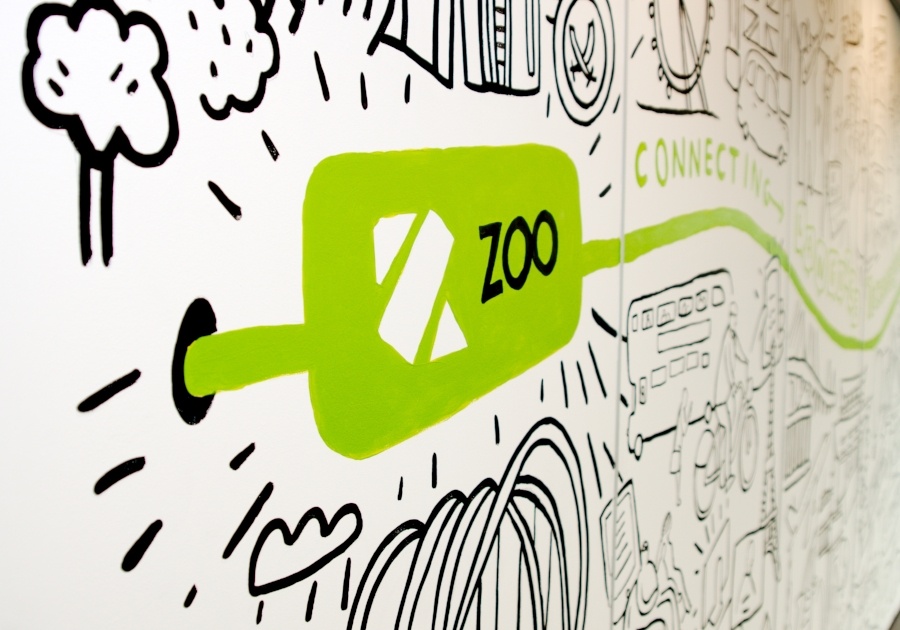 To capture a glimpse into ZOO life, we decided to dedicate a wall of art to our culture – here's how we did it.
What it means to be ZOO?
First step? Working out what it means to be ZOO.
Our values have always been around positive attitude, commitment to innovation, teamwork, respect and placing customers first. But we also needed a why. Why ZOO exists!
After much deliberation, soul-searching and several coffees, our eureka moment hit:
"Connecting language, technology, thinking and people."
Why? Because it encapsulates our love of language and localization. ZOO's backbone in software development. Our dedication to innovation and the people – in front of and behind – the entertainment industry.
All these things make up ZOO.
How to depict an international team?
Working around the world means we also wanted to get across how diverse and collaborative our team really is. Sure, British sarcasm can clash with American gusto (and time zones can be a pain) but we love each other!
We're an international group here at ZOO – and proud of it.
So, we worked with Sheffield-based artist Rich Wells to inspire some ideas and get the creative juices flowing. What do the different cultures of Los Angeles, London, Sheffield and our worldwide freelancers look like?
As the ideas got flowing, so did our doodling artist's pen. Covering everything from the Hollywood Hills and Big Ben to the Statue of Liberty and… Henderson's Relish. It's certainly an original.
You can take a look at Rich in action below:
The power of awesomeness
We work in an industry crying out for a better way of doing things. Committing to 'awesomeness' is our solution.
To blend this into our office artwork, we pulled together the actions that shape the awesome work we do – each as important as the next:
Challenge
Create
Collaborate
Solve
Empower
Listen
Lead
Laugh
These actions don't just cover our software and services or even how we talk about ourselves. It's what we expect from each and every member of Team ZOO. These actions drive our awesomeness!
Capturing culture
Capturing company culture is tricky at the best of times. Even with our values in mind, it took a fresh perspective and some artistic license to pull this together. Nonetheless, we're delighted with the awesome creation.
'Connecting language, technology, thinking and people' is what we're all about. And we hope that this comes across in everything we do!
Thanks to our talented artist and some creative brainstorming, we feel we've hit the nail on the head. Helping the team to understand the bigger picture – why we love doing what we do.